First of all Happy Navrati to all of you.May Goddess Durga bring happiness, success and prosperity to all of your homes.
Since last weekend's rain,temperatures have exponentially dropped in Vegas..to the tune of low fifties for last one week.With dropping temperature I try to include as many soups in our diet as possible. There's something really comforting about vegetable soups..I prefer them over non vegetarian soups anytime…dont know why..maybe because of enhanced freshness and these being light. Even when we go out to eat, like to order vegetarian soups on the menu.
I am not a big fan of store-bought soups…not at all.I find them tasteless and unworthy.The only store-bought soup which I remotely like is the Maggi Soup series..that is some good stuff taste wise..and I remember one nasty habit I had during my teenager days.Instead of making soup out of the powdery mixture,I used to add it to noodles or chow mein and worst of all I licked the powder as churan :)I do the same thing with Maggi noodles tastemaker while making the noodles..alas.. they give such less quantity of tastemaker:( Maggi's tomato soup was the first ready-made soup mixture available in India.Their products revolutionized the ready-made food industry and the products became hugely popular since they suited the taste buds of Indians to the core in the sense that they were tangy and spicy..the way we Indians like our food..Its strange that for everyone …Maggi and its variety of products from noodles to soups to sauces to seasonings form a part of such fond memories of childhood and college days till now.With the onset of winters, all roadside eating outlets and cafes in Delhi install the Maggi soup vending machines and priced anywhere between 5 to 10 bucks a cuppa warm, slightly steaming and tangy soup replaces the evening tea & coffee more often than not.One yummy stuff that is.Being a die-hard fan, during all visits to Indian store, I still bring back loads of Maggi merchandise and re live the sweet & sour memories :)
Coming back to the spinach & white corn soup, this is my mom's recipe which I slighty changed to make it more filling and hearty. The white corn lends a nice bite to the smooth and silky texture due to spinach.Avoid using sweet corn coz it make the soup overly sweet!I like to keep the consistency slightly thick and the vegetables chunky so that it doesnt taste like baby food.The corn can be replaced by potatoes as a variation and for the vegan version you can replace milk with tofu puree and do away with the cream garnish. Below goes the recipe:
What I need:
2 cups fresh spinach leaves , chopped
1 cup white corn kernels [fresh or frozen]
3 tbsp onions, chopped
1 small roma tomato, chopped
2 cloves garlic,chopped
1″ fresh ginger,chopped
1 tsp cumin seeds
1 tsp dried chives
2-3 fresh mint leaves
1/4 cup milk
1 cup water
1 tbsp olive oil
2 tsp crushed black pepper [adjust to taste]
Salt to taste
How I did it:
In a pan, heat the oil on medium heat.Once heated, add the cumin seeds, garlic and ginger to the oil and saute for 2 minutes.
Next, add the chopped onions to the pan and cook the onions on low heat till onions become translucent.
Add the chopped tomato to the pan and cook till soft.About 3 minutes.
Next add, corn kernels,milk, chives and water to the pan and let the mixture come to a boil.Once boiling, reduce the heat,add 1.5 cups of spinach and let it simmer on low flame for 5 minutes till spinach wilt down.
Transfer the contents of the pan to a food processor, add the remaining spinach leaves, mint and pulse the mixture 8-10 times. You can pulse it more or less depending on the texture you desire.Adding the raw spinach leaves will keep the color of the soup intact.
Once processed, add the salt & crushed pepper and give a final pulse to mix everything.
Transfer to a serving bowl , garnish with 1-2 tsp of fresh cream & a mint twig .
Serve warm.
Notes:
Avoid using a blender to process the soup.
For the non vegetarian variation you can incorporate few strips of grilled chicken to the soup.
Have a nice weekend everyone and Happy Navrati to all of you !
Enjoy!

Sending this to Deb's Souper Sundays
Sending this to Tasty Tuesdays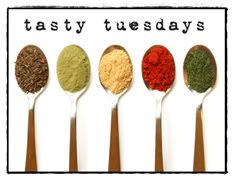 Sending this to Vegetarian Foodie Fridays #22